Democracy wins:Rebirth of the rule of law in Mali?
By Alex Duval Smith*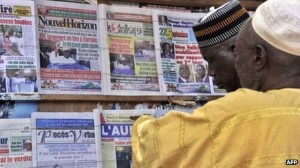 After a chaotic 18 months, Malians have participated in a peaceful election, voting in their hundreds and thousands for a new president.
Ibrahim Boubacar Keita, popularly known as "IBK", scored a landslide victory in a presidential poll that had been forced on Mali by the international community.
It remains to be seen whether the hasty polling exercise has brought stability, just eight months after the start of France's military intervention in its former colony.
According to provisional election results released on Thursday, 68-year-old Mr Keita won 77,61% of votes in the 11 August run-off against 22.39% scored by his rival, former Finance Minister Soumaila Cisse.
French Foreign Minister Laurent Fabius reacted to the peaceful outcome of the election in dithyrambic terms, speaking of a "rebirth" of the West African nation.
"It is the case of Mali whose very existence was threatened seven months ago by the barbarism of terrorism and which managed to find the strength to elect its new president," he said on Thursday.
The European Commission, whose reconstruction pledges of 520m euros ($693m, £443m) for Mali were conditional on the holding of elections, pointed to the high turnout – 48.9% in the 28 July first round and close to 46% in the run-off – as proof of the electorate's desire to "take charge of its destiny".
In a congratulatory letter to Mr Keita, European Commission President Jose Manuel Barroso called on the new president to move fast to organise parliamentary elections but also to pursue peace talks with Tuareg rebels.
"Lasting peace will require the relaunch of development and the full restoration of the state's authority," Mr Barroso said.
Mali's crisis began early last year when secessionist Tuareg rebels, acting in alliance with Islamist groups linked to al-Qaeda, swept across the north of the country spreading terror and forcing 500,000 people to flee their homes.
In March 2012, Amadou Toumani Toure was ousted as president in a coup, ostensibly staged by junior officers in protest at the army's lack of resources to fight the rebels.
They then intensified their campaign and controlled two thirds of Mali in January 2013 when France sent 4,500 troops.
Autonomy agenda
France still has more than 3,000 soldiers in Mali and the United Nations aims to swell its Minusma force to 12,200 police and military by the end of the year.
Openly backed ahead of the election by the country's military and by prominent religious leaders, Mr Keita will face strong internal pressure to be intransigent with the Tuareg secessionists of the National Movement for the Liberation of Azawad (MNLA) which most Malians blame for the crisis.
Yet the ceasefire agreement that made the presidential election possible, signed in Burkina Faso's capital, Ouagadougou, in June, envisages restarting talks within 60 days of the poll and considering a range of options for the north, including accelerated decentralisation or even some form of self-government.
One worrying signal for the future – and an indication of the military's influence over the political process in Mali – came a few days before Mr Keita's run-off victory.
Captain Amadou Sanogo, the leader of the March 2012 coup, was promoted to lieutenant-general on 8 August, a move seen as preparing him for a ministerial post.
US-based Human Rights Watch said that instead of being promoted, Lt-Gen Sanogo should be investigated for his role in a range of arbitrary arrests, attacks on journalists, torture and disappearances.
France and the European Commission have been worryingly silent on the promotion of the coup leader.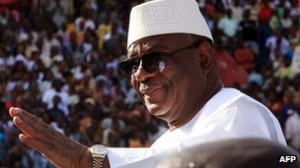 Even though Mali's elections were overwhelmingly peaceful, the first round was preceded by the brief abductions by the MNLA of two election officials in Kidal and two Arab businesspeople near Gao.
Corruption
On Sunday, the day of Mr Keita's victory, Abdoulaye Ag Mohamed Ali, a Tuareg community leader in his sixties, was beaten to death in Lere near Timbuktu.
Even though the assailants were said to be wearing civilian clothes, the MNLA blamed Mali's army.
Apart from fostering peace and reconciliation, Mali's new administration quickly needs to signal to the world that it is serious about good governance and intolerant of corruption.
The country needs infrastructure projects to restart that will create jobs and restore investors' confidence.
In the past, aid was lavished on Mali.
Yet it has remained one of the world's five poorest countries, where 90% of women are illiterate and the average time spent in school is two years.
Mr Keita has a historic opportunity to use the next five years to improve Mali's governance, heal decades-old ethnic divisions and consign the military to its rightful place – away from politics.
To succeed, he will need the international community to be more mindful this time of how its own taxpayers' money is spent and more bold to protest when four stars are pinned to a coup leader's uniform.
*Source BBC