Obama Announces Young African Leaders Fellowship Initiative
By Merle David Kellerhals Jr*
Washington — President Obama has announced a new program to bring Africa's most promising young leaders to U.S. universities annually for training in public management, business and civic leadership.
In a speech at the University of Johannesburg-Soweto June 29, Obama stressed the crucial role Africa's young leaders will play in the continent's future. He said that the formal university training offered by the Washington Fellowship for Young African Leaders will focus on skills young leaders need to run better government ministries, start and grow businesses, and serve their communities.
Beginning next year, the United States will bring 500 young Africans for six weeks of study at American universities,. That total eventually will expand to 1,000 young African leaders annually. Participants chosen for the Washington Fellowship will be 25- to 35-year-olds with a record of leadership in public, private, or civic organizations. Participants also would have to show a significant commitment to building and serving their communities, the White House said.
Obama announced the program before approximately 600 young leaders from South Africa, while others in Kenya, Nigeria and Uganda participated by videoconference. Obama said Africa has a bright future and praised young Africans for having a "yes we can attitude."
According to the White House, the U.S.-based training Washington fellows will receive is only the beginning of the long-term investment the United States will make in the young leaders. "To ensure that participants can put their newly acquired skills and experiences to use, the U.S. government is working with businesses, governments, and institutions to create meaningful opportunities to allow them to put their skills to practice in Africa," the White House said.
And the White House said the Washington fellows will be provided with tailored training in the three sectors, leveraging top university faculty, advanced curricula, and local opportunities to impart practical professional and leadership training.
"Formal university training will be augmented by workshops, mentoring, and networking opportunities with leaders in each field, as well as internships across the United States," the White House said.
The Washington fellows program builds on the Young African Leaders Initiative (YALI) launched by Obama in 2010 to support leadership development, promote entrepreneurship, and connect the next generation of African leaders with one another and the United States, the White House says.
Earlier, Obama spoke at a joint press conference with South African President Jacob Zuma at the Union Building in Pretoria that houses government offices. It is the site of former President Nelson Mandela's 1994 inauguration as the nation's first black president after 27 years behind bars for his political activism.
The 94-year-old Mandela is in a nearby hospital after being admitted with a lung infection. Zuma told journalists that Mandela is in critical but stable condition.
Obama urged African leaders and leaders around the world to follow Mandela's example of placing the needs of the nation ahead of self.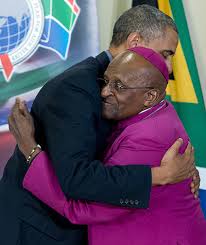 "We as leaders occupy these spaces temporarily and we don't get so deluded that we think the fate of our country doesn't depend on how long we stay in office," Obama told journalists. Obama met for about a half hour with Mandela's family.
"The struggle here against apartheid for freedom, Madiba's [Mandela's] moral courage, this country's historic transition to a free and democratic nation has been a personal inspiration to me; it has been an inspiration to the world," Obama said. The president also told journalists that South Africa is a critical partner to the United States, and South Africa's growth reflects the new realities of a global economy.
Obama told journalists that almost all of South Africa's exports to the United States — approximately 98 percent — enter the U.S. market duty-free. "And I told President Zuma that I want to renew but also improve and update the African Growth and Opportunity Act so we're generating more trade and more jobs," Obama added.
Obama is on a weeklong tour of Africa that also includes stops in Senegal and Tanzania.
original story here :