JOINT PRESS RELEASE FROM THE OFFICE OF HIS EXCELLENCY PRESIDENT CONDÉ, RIO TINTO, CHALCO AND IFC CONCERNING THE GUINEA SIMANDOU PROJECT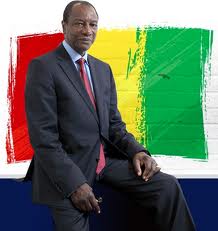 London, June 17, 2013 – Leaders from the Republic of Guinea, Rio Tinto, and IFC, a member of the World Bank Group, met in London on June 16, 2013 to discuss their project to develop Guinea's Simandou Blocks 3 and 4 project. The meeting coincided with President Alpha Conde's participation in the G8 proceedings hosted by Prime Minister David Cameron. Present at the meeting were President Conde, Sam Walsh, CEO of Rio Tinto and Jin-Yong Cai, Executive VP and CEO of IFC. Mr. Walsh and Mr. Cai also spoke for the Aluminium Corporation of China Limited (CHALCO) the project's fourth partner.
The meeting was hosted by Mr. George Soros as part of his ongoing support to the Government of Guinea.
The partners affirmed their commitment to the Simandou Project and recognized the Project's importance to Guinea and to the other partners. They emphasised the importance of transparency and good governance in the development and operation of the Project.
Continuing the current focus on developing an investment framework for the financing, construction and operation of the transportation link needed for the Project was emphasised by all partners. The partners agreed on the importance of a transportation link that is open to other users and designed to encourage broad-based economic development in Guinea.
The partners have previously established a working group to design the investment framework which will be the basis for seeking financing for the project. The partners lauded the progress made so far by the working group and agreed to resolve outstanding issues as quickly as possible.
 About the Simandou Project
Simandou is a world-class iron ore mining project located in the south-east of Guinea. Rio Tinto develops the project in partnership with the Government of Guinea, Chalco and IFC, a member of the World Bank Group. The concession licence-holder and project company is Simfer S.A., which is currently owned 50.35% by Rio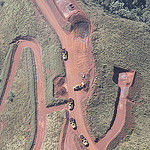 Tinto, 44.65% by Chalco and 5% by IFC. The Republic of Guinea will have the right to take a stake of up to 35% in Simfer S.A. (the mine) and a 51% stake in a Special Purpose Vehicle to own the Project Infrastructure (rail & port). Simandou will be the largest integrated iron ore mine and infrastructure project ever developed in Africa, with the potential to transform the Guinean economy and transport infrastructure.
The Simandou Project comprises three principal components:
an iron ore mine of 95 million tonnes per year at full production;
a Trans-Guinean railway of approximately 670 km to transport the ore from the mining concession to the Guinean coast; and
a new deepwater port south of Conakry in the Forécariah prefecture
For further information, please contact:

Press Office of the President of Guinea
Bureau de Presse de la Présidence
Office: +224 664 87 96 59
+224 628 18 15 57
Email: moussa.cisse@presidence.gov.gn
abdoulaye.sankara@presidence.gov.gn
IFC
Desmond Dodd, Head of Communications
Sub-Saharan Africa – IFC Corporate Relations
Office: +27 11 731 3053
Mobile:+2783 448 9873
E-mail: ddodd@ifc.org
Rio Tinto
 Media Relations, EMEA / Americas
David Outhwaite
Office: +44 20 7781 1623
Mobile:           +44 7787 597493
Christina Mills
Office: +20 7781 1154
Mobile; +44 7825 275605
Media Relations, Australia / Asia
David Luff
Office: +61 3 9283 3620
Mobile:           +61 419 850 205
Bruce Tobin
Office: +61 3 9283 3612
Mobile:           +61 419 103 454