Africa 'ripped off big time' by foreign resource firms, says bank chief
Donald Kaberuka, president of the African Development Bank, tells the international community to press for more transparency
By David Smith,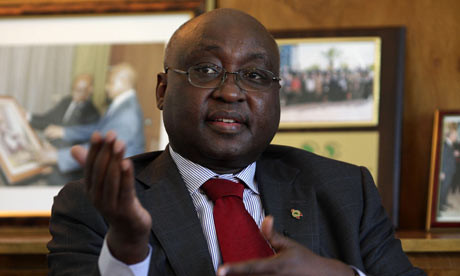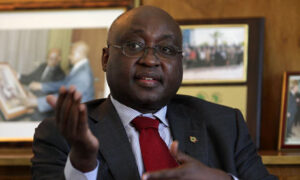 "The reality is, Africa is being ripped off big time," was the unusually blunt assessment by Donald Kaberuka, president of the African Development Bank (AfDB), in an interview with Reuters on Sunday.
Kaberuka was addressing the perennial question of foreign corporations extracting Africa's mineral resources at huge profit for shareholders with scant reward for local populations.
Speaking a day after meeting British and African leaders in London before the G8 summit, Kaberuka told the news agency: "Africa wants to grow itself out of poverty through trade and investment – part of doing so is to ensure there is transparency and sound governance in the natural resources sector."
Africa loses an estimated $62.2bn (£40bn) in illegal outflows and price manipulation every year, much of it exported by multinationals. The Africa Progress Panel under former UN secretary general Kofi Annan recently highlighted how the Democratic Republic of the Congo lost at least $1.36bn in potential revenues between 2010 and 2012 due to knock-down sales of mining assets to offshore companies.
The UK has pledged to put its "own house in order" by pressing overseas tax havens into a transparency deal and drawing up new disclosure rules for British companies. It hopes that G8 partners will follow suit.
Kaberuka raised the issue at a meeting on Saturday at London's Lancaster House attended by the presidents of Ghana, Guinea, Senegal, Somalia and Tanzania, and the Nigerian finance minister, Ngozi Okonjo-Iweala, who made a failed bid to lead the World Bank.
He told the gathering: "The international community must do its part to ensure balanced contracts, minimise tax avoidance – let alone tax evasions – and bring light and transparency in the natural resource sector, [which is] at the moment often very opaque.
"It is only in this way that our countries will be able to find the financial resources they need to fund infrastructure, to fund the trade corridors, which are now very dependent on donor funding."
Kaberuka, a Rwandan who has been president of the AfDB since 2005, praised the cancellation of African debt at that year's G8 summit in Gleneagles for removing barriers to the continent's economic growth, which the AfDB predicts will reach 4.8% this year.
Sub-Saharan African GDP has multiplied in 10 years, he noted, from about $600bn at the turn of the millennium to $2.2tn last year. Adjusted for inflation, this is a doubling of economic size in a decade.
But aid to Africa from the developed world had been cut for the first time in 10 years. "It's important we begin to use aid smartly," Kaberuka told Reuters.
He highlighted projects such as the AfDB's planned infrastructure fund, designed to use donor funding along with African savings as a base for debt issuance to finance regional infrastructure projects.
At Saturday's Lancaster House meeting, David Cameron praised the AfDB for its work on both investing in infrastructure and slashing the red tape that hampers cross-border trade in Africa.
"Let's back African countries in achieving their goal of doubling intra-African trade by 2022," the British prime minister said. "Let's back Africa in ending the crazy bureaucracy that means a trucker taking goods from Cape Town to Kigali has to carry up to 1,000 documents.
"And let's back Africans on infrastructure – where they have a point when they say it was largely designed in another era and primarily focused on getting products out of the continent rather than promoting trade within it."
Cameron added: "Let's get behind president Kaberuka's work through the African Development Bank to secure the private finance that can deliver the infrastructure that is so badly needed."
In a recent speech in Pretoria, Britain's high commissioner to South Africa, Dame Nicola Brewer, set out the country's "triple-T" agenda of trade, transparency and tax.
"In our changing world, a G8 summit is an opportunity for some of the world's leading economies to demonstrate that we are putting our own house in order," she said.
"That means supporting growth and prosperity around the world by helping open and fair societies to thrive. It means G8 nations adopting the rules which characterise a fair and open global economy. That's an ambitious agenda which benefits everyone – in the developed and developing worlds."
She added: "As the recent Africa Progress Panel report made clear, it is unacceptable that foreign direct investment and aid flows into Africa combined ($62.2bn) are worth less than the losses flowing out of Africa through illicit finance and the manipulation of international trade prices ($63.4bn). We need to ask how we in the G8 can come together around fairer global rules which don't disadvantage developing countries."
*Source Guardian Newspaper