The Africa Union Joins the Global Fight to End Neglected Tropical Diseases by 2020
Africa Union Health Ministers Call for Increased Investments to Rid Africa of Neglected Tropical Diseases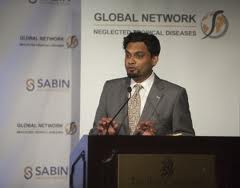 ADDIS ABABA, ETHIOPIA, April 29, 2013— The Sixth Conference of African Union Ministers of Health (CAMH6) concluded on April 26, 2013 with a strong call for African countries and development partners to increase support for neglected tropical disease (NTD) control and elimination programs. This call for action supports the World Health Organization's (WHO) goal to control or eliminate ten of the most common NTDs by 2020.
 NTDs were prominently featured at this year's CAMH6 which took place in Addis Ababa, Ethiopia from April 22-26, 2013. The African Ministers of Health acknowledged the tremendous work done by country governments, the WHO Regional Office for Africa, and development partners, highlighting the development of 36 multi-year, national NTD control and elimination plans, the WHO Roadmap for Implementation titled, Accelerating Work to Overcome the Global Impact of Neglected Tropical Diseases, and the January 2012 London Declaration on NTDs. The Ministers called on African governments and partners to build on this momentum by making financial commitments towards the implementation of the national NTD control and elimination plans.
NTDs are a group of parasitic and bacterial diseases that infect more than one billion people around the world, most of whom live below the poverty line. These diseases cause malnutrition and anemia, pregnancy complications, blindness, disfigurement and delays to physical and cognitive growth among children, often perpetuating the poverty of those they infect.
During the conference, the Africa Union Commission (AUC) and the Global Network for Neglected Tropical Diseases, an initiative of the Sabin Vaccine Institute, co-hosted a high-level breakfast discussion to showcase the current challenges and available solutions to combat NTDs in Africa. The meeting outlined clear actions for African governments and development partners to ensure NTD control and elimination by 2020.
This breakfast discussion, which included remarks by His Excellency Dr. Mustapha Kaloko, AUC Commissioner for Social Affairs; Ambassador Michael Marine, chief executive officer of the Sabin Vaccine Institute; the Honorable Dr. Sabine Ntakarutimana, Minister of Health for the Republic of Burundi; and Dr. Luis Gomes Sambo, regional director of the WHO Regional Office for Africa.
"Africa has the highest burden of NTDs in the world, with just under 50 percent of the global NTD burden. NTDs pose a threat to healthcare, economic development and the attainment of the Millennium Development Goals," said His Excellency Dr. Mustapha Sidiki Kaloko, Commissioner of Social Affairs at the African Union. "CAMH6 is reigniting this issue with the hope of triggering strong action against these diseases."
"This week's focus on NTDs confirmed African leaders' commitment to advancing the region's health and development," said Ambassador Michael W. Marine, chief executive officer of the Sabin Vaccine Institute. "This strong commitment will be a clear signal of increased ownership of this issue by African governments and will catalyze greater financial contributions from development partners."
Burundi became the first francophone country in the region to officially launch an integrated national plan to combat NTDs in February 2012. Dr. Sabine Ntakarutimana, the Honorable Minister of Health for the Republic of Burundi, encouraged other African nations to adopt a similar commitment to eliminate NTDs by 2020.
Dr. Luis Gomes Sambo, regional director of the WHO Regional Office for Africa, highlighted the new and growing momentum to eliminate NTDs. Dr. Sambo added that, "government leadership and commitment remains critical to accelerating the control and elimination of NTDs and enhancing development in Africa."
 To learn more about NTDs in Africa, visit www.globalnetwork.org
Media Contacts:
Amber Cashwell
Policy Officer, Sabin Vaccine Institute
Tel: +1 202-621-1695 or Mobile: +1 (864) 978-9335
 Wynne Musabayana
Deputy Head of Information and Communication
African Union Commission
Email: MusabayanaW@africa-union.org
 About NTDs
NTDs are a group of 17 parasitic and bacterial infections that are the most common afflictions of the world's poorest people. They blind, disable and disfigure their victims, trapping them in a cycle of poverty and disease. Research shows that treating NTDs lifts millions out of poverty by ensuring that children stay in school to learn and prosper; by strengthening worker productivity; and by improving maternal and child health.
About Sabin Vaccine Institute 
Sabin Vaccine Institute is a non-profit, 501(c)(3) organization of scientists, researchers, and advocates dedicated to reducing needless human suffering caused by vaccine preventable and neglected tropical diseases. Sabin works with governments, leading public and private organizations, and academic institutions to provide solutions for some of the world's most pervasive health challenges. Since its founding in 1993 in honor of the oral polio vaccine developer, Dr. Albert B. Sabin, the Institute has been at the forefront of efforts to control, treat, and eliminate these diseases by developing new vaccines, advocating use of existing vaccines, and promoting increased access to affordable medical treatments. For more information please visit www.sabin.org.
About the African Union
The African Union Commission is the Secretariat of the African Union whose vision is that of "An integrated, prosperous and peaceful Africa, driven by its own citizens and representing a dynamic force in global arena." The mission of the Commission is to become "An efficient and value-adding institution driving the African integration and development process in close collaboration with African Union Member States, the Regional Economic Communities and African citizens." Guided by its values and principles, the Commission will endeavour to achieve its mission through implementation of clear goals and strategies and by committing the requisite resources for effective discharge of its mandate. This would require the AUC presenting specific proposals to give full effect to its texts, and bring new possibilities and benefits to the citizens of Africa.