African Unity at 50 years
Attendees at the OAU summit in 1963 did not agree on many things, but they united to ensure that all Africans could be free.
The radical pan-Africanists of that period posed questions that politicians are still grappling with today: how to deepen cooperation, how to build a fairer international trading system and how to deal with the disproportionate military power of wealthy states.
After listening to a string of verbose and repetitive speeches, Algeria's president Ahmed Ben Bella briskly stepped up to the podium at the founding conference of the Organisation of African Unity (OAU) in Addis Ababa in May 1963 and announced: "It is one o'clock and my speech will be brief." That must have been a relief to the delegates: the previous 21 speakers had taken three days to make their points.
For Ben Bella, less than a year after Algeria's hard-fought independence, one issue overwhelmed all others: the total liberation of Africa. As to what form of unity the new organisation should take, Ben Bella was clear: "African unity must take the form of effective solidarity with those who are still fighting for their liberty."
Ghana's President Kwame Nkrumah wanted to define the road ahead for the nascent pan-African organisation: "Seek ye first the political kingdom, and all things shall be added unto you."
For Nkrumah, it was more than a matter of political preference, rather it was one of national identity. "Ghana's freedom would be meaningless if it was not linked with the total liberation of the entire continent of Africa," he explained.
FAR-SIGHTED
But Nkrumah and the so-called Casablanca group of radical leaders (from Algeria, Egypt, Guinea, Mali and Morocco) struggled to win over the rest of the continent to their plans for quick unification under a federal system and a single market that would mean the rapid elimination of borders and tariffs.
It was a far-sighted plan: it took Europe another 30 years to get there, and Africa is still struggling to eliminate controls on the movement of goods, capital and labour within its regional economic communities.
Nkrumah's logic was that a federation could be pushed through quickly to accelerate decolonisation and to prevent post-colonial states from building up nationalistic sentiments.
He expounded on his idea of developing an "African personality" in international affairs, a forerunner of the 'African solutions for African problems' mantra.
To do this, Nkrumah wanted Africa to have a common foreign policy.
Opponents of Nkrumah's plan in the Monrovia group, including Liberia's William Tubman and Côte d'Ivoire's Félix Houphouët-Boigny, said it would unduly benefit Ghana as one of the first independent states.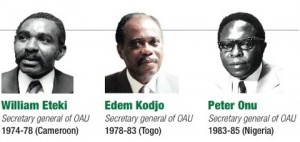 Instead, they wanted a much looser confederal approach and were prepared to maintain strong economic ties with the former colonial powers.
At a meeting in Monrovia in May 1961, Houphouët-Boigny and Tubman won over 22 of the 27 independent African states at the time, many of them Francophone ones that had opted to stay within the Paris-backed currency zone.
So the prospects of agreement between the radical Casablanca and conservative Monrovia groups looked poor at the founding conference.
But Ben Bella made a powerful appeal around which all could unite: "Are we going to allow ten million men to insult each day 300 million Africans?"
BLOOD NOT BANKS
Ben Bella argued that the OAU charter would remain a dead letter unless there was concrete support – arms, training and money – for liberation movements.
Detained by France for six years, Ben Bella had been a leader of Algeria's Front de Libération Nationale and paid tribute to its supporters in Egypt, Guinea, Nigeria, Mali and Tunisia.
For Nkrumah and Ben Bella, the OAU had to become a determinedly political organisation. It was not the time to set up banks and argue about development policies, said Ben Bella: "We have no right to think of filling our bellies when our brothers are still dying in Angola, Mozambique and South Africa."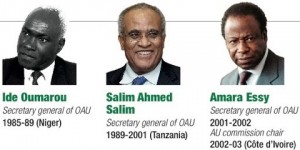 "There has been talk of a development bank," said Ben Bella. "Why have we not talked about setting up a blood bank […] to help those who are fighting all over Africa?"
If Ben Bella lit up the conference, the cerebral President Julius Nyerere of Tanganyika won the loudest applause: "This is time for action, the time for allowing our brethren to struggle unaided is gone; from now on our brethren in non-independent Africa should be helped by independent Africa."
After Nyerere spoke, it was clear that the OAU would rally to the national liberation cause, even if opinion remained divided over the Congo, picking sides in the Cold War and relations with the colonialists.
So the resulting charter was a compromise between the Casablanca and Monrovia groups.
The highest authority was the Assembly of Heads of State and Government, meeting once a year; the second highest was the Council of Ministers, to whom the Committee of Ambassadors – all posted to Addis Ababa – would offer advice and insider knowledge.
As the main aim of the OAU in 1963 was the liberation of the rest of the continent, national sovereignty was guarded jealously and all external intervention, direct or indirect, was to be opposed.
DICTATORS MOVE IN
Yet there was a political trap that Nyerere identified.
The OAU Charter spoke for Africans under colonialism and racial domination, but once the countries won freedom, the charter stood for the protection of heads of state.
After OAU leaders had elected Uganda's Idi Amin – whose regime is estimated to have killed at least 100,000 people – as their chairman in 1975 with strong backing from Libya's Muammar Gaddafi, it took Amin another three years to pick a fight with Nyerere, after which Tanzania's army overthrew him.
One of Amin's successors, Yoweri Museveni, won power after a guerrilla war and called the OAU the "trade union for dictators".
The earliest days of pan-Africanism were the harshest. As the OAU's second secretary general, Diallo Telli, said, pan-Africanism was born in an atmosphere of "complete alienation, physical exploitation and spiritual torment".
Despite the many resistance movements fighting colonialism and slavery since the 15th century, it was not until the early 20th century that an international pan-Africanist movement gained momentum.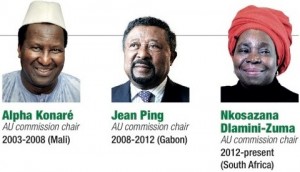 Launched by the African-American W. E. B. Du Bois and Marcus Garvey from Jamaica, the pan-Africanists inspired the next generation of leaders.
Their conferences were marked by fierce ideological debate, but many of today's issues – the inequities of the global trading system, the lack of industry and technical innovation, and the overwhelming military power of the rich countries – were on the agenda.
In 1955, African states formed a continental bloc at the emerging powers conference in Bandung, Indonesia.
For Nkrumah and Egypt's President Gamal Abdel Nasser, Bandung was the beginning of a new South-South alliance that would become a genuine third force in global politics, and so the non-aligned movement was born●
*Source The African Report