Born Finnish, African At Heart.
Johanna Maula Pens her Fond African Memories
By Ajong Mbapndah L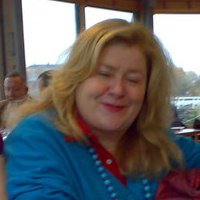 Johanna Maula may be Finnish but she adores Africa. She spent part of her childhood in Nigeria. She has visited over a dozen countries, across the continent and lived in over five. Maula has worked at the African Development Bank and worked with other international agencies focused on Africa. She recently authored a new book the Jasmine Years a memoir of her unique experiences in Africa. Johanna Maula shares more about her book, experiences in Africa, battling negative labels on Africa   and more in an interview with Ajong Mbapndah L for Pan African Visions.
Can you tell us about your book the Jasmine Years?
The book is my personal memoir from those years and times that I have spent in Africa, first living as a child in Lagos, Nigeria, later working in Tanzania, Benin, Ethiopia and Tunisia. I try to describe the places, people and events as well as I can, so it is more about Africa than me, but of course, "we all look at the things the way we are not as they are", as the Talmud wisely says.
So the book is about your experiences in Africa, in what parts of Africa did you live and what souvenirs do you have while growing up?
My souvenirs from Nigeria are basically very good, I loved the people, the nature, the warmth and the fruits. We were very happy there, although some of us fell quite ill.
In your adult live have you visited the countries you grew up in while a child, how have there progressed or regressed in your opinion?
I only grew up in Nigeria (Lagos) in 1968 to 1970 and visited it again in 1988 and 1989. I was really sad to see all the corruption and violence, which did not exist so much when we were living in Lagos in 1968-70. But there were many familiar and pleasant things too. And of course the country had progressed in many ways too – but it could have done so much more with its enormous oil wealth if it were not for the huge corruption and bad management.
Somehow, that is the tragedy of Africa, with all its wealth and natural resources, its wonderfully talented people and rich cultural traditions, the continent could be so much more, but the exploitation – both internal and external – bad management and greed have so often led to much poorer results than could be expected. Yet there are many positive examples too and I am very impressed by the rapid economic progress of Ethiopia today, for instance, compared to where the country was in 2001-2 when I lived there.
If you were asked to educate Europeans with stereotype ideas about Africa what will you tell them?
I would encourage them to visit Africa themselves and see for their own eyes, not just staying in some tourist hotel and visiting game parks, but getting to know the real people! There have been and still are stereotypes about Africa and Africans. When I was a child and went to school in
Finland, I had a teacher in biology who was telling us that "Negroes" are lazy! Having grown up in Nigeria I got upset and told him and my class that I did not believe it was true as I had seen how hard Nigerians were working under the relentlessly hot sun! He was left speechless, and then tried to counter that at least the "American Negroes" were lazy! There is much negative thinking still and stereotypes, but I am sure that these will disappear with the economic growth of Africa.
Besides your personal experiences, what ties does your country Finland have with Africa, in what ways could you work in a broader sense to improve on socio-economic ties for instance?
 Finland has rather limited ties and only with a handful of countries,  mainly in the English-speaking east Africa. The Finns in general have not really yet realized the potential of Africa but basically still see it as a continent in distress, ravaged by wars and calamities.
Everyone is talking about the potentials that Africa has and the changes taking place there, as someone who has travelled the continent extensively and worked with international organizations including the African Development Bank, what is your take on this assertion and what does Africa need to do to effectively take off?
As mentioned also earlier, I too believe that Africa and Africans have tremendous potentials. What is needed,  in my opinion, is for the African governments not to sell their natural resources and commodities too cheaply to outsiders and also better and more transparent management, governments that are really accountable to people. I think that Africans should also value more their fantastically rich and varied cultural heritage, music, dances, art, storytelling etc and use  these also as a way to advance economically. Africa has also largely untapped potential in developing its tourism and cultural industries.
What has been the response of the public to your book, what is the feedback you have got and how can interested readers get it?
The book is available on at least 50 online retailers globally (US, UK, Canada, Japan, Australia, India, South Africa, France,  Italy, Spain, Poland, Estonia, Finland,  Sweden, Germany, Estonia,  the Netherlands., Croatia…) and also in some bookshops in the US. So far the response has been positive! Some review will be coming out soon…
And what is your next trip to Africa?
I will no doubt travel again to Ethiopia, as I am  now  writing a new book about successful Ethiopian women in a historic perspective.
Dr Maula, thanks for granting this interview to PAV
Many thanks!