Unity, faith, peace. Why Africans want an African pope
By Sarah Brown*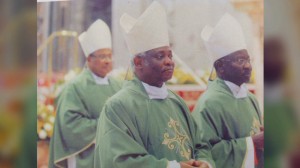 These words were common among the 20,000 messages received when CNN and mobile technology company Jana.com carried out a mobile phone survey in 11 countries asking Africans: What would be the impact of an African pope on the continent, or you?
The results provide a fascinating insight into faith on the continent, where Christianity is growing.
Sub-Saharan Africa is home to more than 500 million Christians, with Catholics accounting for around a third of that number, a 2011 study by the Pew Research Center found.
And many of those took part in the survey felt the impact would prove positive for the continent.
"The gospel would be spread into Africa," hoped one Nigerian man, while a Ugandan respondent said he hoped an African pope would "turn Africans from secularism."
"It would put Africa in the limelight and the world would see — we are not as bad as we are painted," a woman from Nigeria said.
"It would inspire Africans just like [Barack] Obama did," added a Zambian woman, drawing parallels to the landmark election of the U.S. president to power in 2008.
Many also felt that an African pope would also provide an excellent role model for Africans and a potential conduit for more conversions to the faith.
"An African pope would increase Catholicism in Africa and would also show that Africans have a voice," said one rural Kenyan woman.
"He will be a good role model to all African children," added a Ghanaian man.
But for others, the prospect of an African pope marked a potential milestone for their personal journey of faith.
"It will make me have a sense of belonging to the Catholic Church," one Nigerian man said, while a Zimbabwean woman hoped fervently that a new African pontiff would "encourage me to always rely on the Lord."
Slightly more than 50% of respondents felt the church would be more conservative under an African pope.
"As an African man, he can handle matters in the Africa way and he understands them well, based on tradition, so I think an African pope will be better," one young Nigerian man observed.
"The Catholic Church will be ultra conservative with an African pope," said one Nigerian woman.
"It would spread the faith with stringent Catholic doctrines," a Ugandan man responded.
This feeling spread to opinions on homosexuality, with hopes expressed by some of those surveyed that the new pope would clamp down on same sex marriage.
"The [African] pope would fight against homosexuality in Africa," said one Ghanaian man, while another from Rwanda said "it could be the time to fight" against homosexuality.
"It will reduce the [amount] of sex abuse by Catholic priests and will definitely condemn gay marriage," one Nigerian man asserted.
Racism was on the mind of many who responded to the survey, with respondents hoping that an African pope would encourage more reconciliation between races and ethnic groups.
"There will be a progressive and greater acceptance of blacks as equal to whites," said one Nigerian man.
"It would show that the Catholic Church is not only for the whites — but every race," Zambian woman said.
"It will make Africans know that the God can use anybody regardless of his race … so it will draw people more closer to God in Catholicism," a Ghanaian man said.
However, not all felt an African pope would lead to equality between black and white.
"He would be used as a puppet, which automatically means the white popes would be in power," said one Zimbabwe man.
And not all respondents were excited by the possibility of an African pope — 18% had said they did not feel the continent was ready, while 39% felt the world was not ready.
"The world isn't exactly nice to Africans," one Nigerian man remarked. "They will always see the Africans as corrupt people and this will cause not only the Africans but the church to lose its integrity."
But overall, the response engendered was a fascinating snapshot of faith in the continent, and also of a desire for Africans to be represented better by one of the world's largest, and oldest faiths.
Perhaps one Nigerian man summarised the majority of responses most succinctly.
"We have always been ruled, so let us also rule," one 20-year-old Nigerian man demanded.
Jana conducted the poll between March 7-11, 2013 with mobile phone users from Lesotho, Rwanda, Namibia, Tanzania, Zambia, Zimbabwe, Uganda, South Africa, Kenya, Ghana, and Nigeria.
The company has pioneered polling in developing countries with fast-growing mobile networks. Participants in the survey were rewarded with additional air time.
* Source CNN