Politics of succession: coping when leaders die
To avoid chaos, countries must follow constitutional procedures
By Kingsley Ighobor*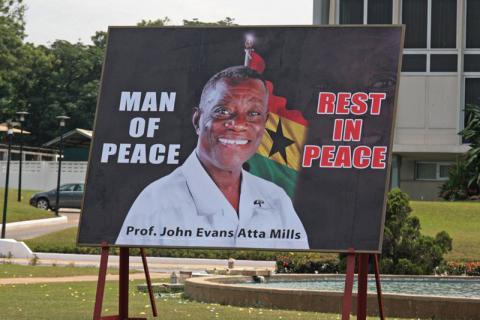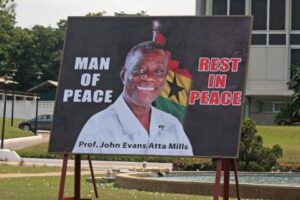 In December 2008, a Guinean newspaper published a photo of a frail and ailing President Lansana Conté, who appeared to be struggling to stand up. The photo stoked rumours of the president's ill health. Its publication also angered the country's political elite, who hastily ordered the editor's arrest. By the next day, on the instructions of security operatives, the publication's front page carried an even bigger photo of Mr. Conté — this time smiling broadly and looking spirited. But he died just a week later, justifying the newspaper's initial resolve to let Guineans know that his health was failing.
The head of the National Assembly, Aboubacar Somparé, later explained that leaders hid the president's "physical suffering in order to give happiness to Guinea." Mr. Somparé's clumsy explanation implied a need to avoid succession squabbles and potential violence. Yet six hours after the president's death was officially announced, the army staged a coup, suspended the constitution and threw the West African nation into political turmoil.
Succession squabbles
While Guinea's military, after a period of chaos and yet another coup, eventually organized democratic elections, the muddled aftermath of Conté's death draws attention to the broader issue of how African nations manage successions when their leaders die in service. Ten of the 13 world leaders who have died in office since 2009 were African. In 2012 alone, presidents Malam Bacai Sanha of Guinea-Bissau, John Atta Mills of Ghana and Bingu wa Mutharika of Malawi, as well as Prime Minister Meles Zenawi of Ethiopia, have all died.
Some countries have handled succession better than others. As chaotic as they were, the developments in Guinea were not as dire as the more recent situation in Guinea-Bissau. Since President Sanha died in January from an illness, the country has been embroiled in an ongoing transition crisis, with the military mostly controlling the affairs of state.
Malawi, on the other hand, had a relatively successful transition after 78-year-old President Mutharika's fatal heart attack in April. But the process could have gone off the rails when some cabinet members tried to have the late president's younger brother, Foreign Minister Peter Mutharika, sworn in, instead of Joyce Banda, the vice-president and constitutionally designated successor. This effort followed the late president's expulsion of Ms. Banda from the ruling party to pave the way for his brother. When he died the political class was divided between those who cited the late leader's intentions and those who wanted to follow the constitution. Many Malawians agitated against any deviation from the constitution, supported by donors, including a strong message from the US State Department: "We trust that the vice-president, who is next in line, will be sworn in shortly." And she soon was.
It is important to avoid such succession problems, argues Tesfaye Habisso, an Ethiopian writer and former diplomat. "Stability, predictability and continuity in leadership are important ingredients of good governance and are assured by a well-planned and -managed succession strategy."
The rule of law
Succession strategies need to be strictly constitutional, argues a 2011 report by the Center for Strategic and International Studies (CSIS), a US think tank. The report specifically draws attention to oil-rich Angola, governed since 1979 by José Eduardo dos Santos, who is now 70. While the country is now at peace, and its economy is growing, the CSIS report expresses concern that the established rules of succession could be violated because of infighting within the ruling People's Movement for the Liberation of Angola (MPLA). Some MPLA factions oppose the current vice-president.
Most African countries' constitutions specify that when a leader dies in office, his or her deputy or the head of the national assembly will step in until an election can be held. Some leaders, however, expect the designated "heir apparent" to display fawning personal loyalty. If he or she does not, political conflict can arise. In Nigeria, for example, Vice-President Atiku Abubakar had a frosty relationship with then President Olusegun Obasanjo, who wasted no time arranging Mr. Abubakar's expulsion from the ruling party.
Some African leaders have groomed relatives as successors. When President Omar Bongo of Gabon died in 2009, the ruling party named his son, Ali Bongo Ondima, who was foreign and defence minister, as the new president. Presidents Faure Gnassingbé of Togo and Joseph Kabila of the Democratic Republic of the Congo succeeded their deceased fathers.
Yet picking a relative can spark a revolt, maintains the CSIS report, citing the case of Egypt, where President Hosni Mubarak's intention to install his son as his successor added to the opposition that erupted in the revolution of early 2011. In Burkina Faso, indications that President Blaise Compaoré may be grooming his younger brother, François, as a successor have stirred considerable controversy.
Constitutions should be followed strictly when a president or prime minister dies, says Adewalo Banjo, an expert in African development. Without the rule of law, he argues, there can be "constitutional somersaults which bear all the hallmarks of what ridicules Africa before the world."
Signs of progress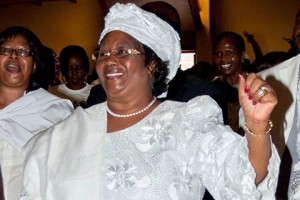 The rule of law certainly prevailed in Ghana after President John Atta Mills died in July. Unlike in Malawi, there was never any doubt as to who should take charge. Vice-President John Dramani Mahama took over the mantle of leadership in line with constitutional requirements and promptly rallied a distressed nation. Ghana's seamless transition reflected the strength of its democratic system, in which ruling parties have twice handed over power to the opposition, after electoral defeats in 2000 and 2008.
Nevertheless, while a strong democratic tradition can facilitate smooth successions, considerations of political power may get in the way. When Nigeria's Umaru Musa Yar'Adua died in May 2010, some Nigerians demanded that another northerner be sworn in instead of Vice-President Goodluck Jonathan, a southerner. Mr. Jonathan eventually prevailed.
Following the death of Prime Minister Meles Zenawi in August, the succession process in Ethiopia was also successful despite initial hitches. There had been speculation that Mr. Meles' deputy, Hailemariam Desalegn, although a member of the ruling circle, could not be trusted with power because he did not belong to the Tigray People's Liberation Front (TPLF), a former militant group once led by the late president and still a powerful faction within the ruling party.
Ironically, the case for Mr. Hailemariam was made on the basis of ethnic considerations: to defuse tensions associated with the TPLF's domination over the years and to placate the Wolaytas, an ethnic minority that had never had a member at the summit of power. Ultimately, Ethiopia's ruling group rallied around Mr. Hailemariam, who was quick to promise a continuation of Mr. Meles's policies "without any change."
Ethiopia, Ghana and Malawi — the three latest cases of smooth succession following the death of a leader — provide evidence that Africa is gradually getting its transitions right. Succession can be a frequent problem even in developed and stable democracies, because it is all about political power, says Minion Morrison of Mississippi State University in the US. It is even more problematic if a leader dies in office. After the mess that surrounded the illness and death of Nigeria's Mr. Yar'Adua, writer and Nobel laureate Wole Soyinka sent a simple message to African leaders: political succession should not be a matter of "do or die" politics.
* Source African Renewal