Goldman Sachs Appoints Nigerian Banker To Its Board
By Mfonobong Nsehe*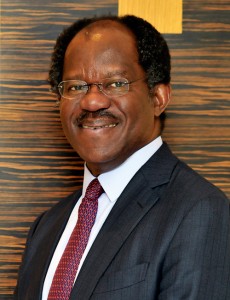 Goldman Sachs has appointed Adebayo Ogunlesi, a Nigerian investment banker and private equity tycoon, to its board of directors, the company said in a press release on Monday.
Ogunlesi, 59, is the chairman of Global Infrastructure Partners (GIP), an infrastructure investment firm he co-founded.
Ogunlesi is popularly referred to as The Man Who Bought Gatwick Airport in African business circles- a reference to a 2010 deal in which he led GIP's $2.4 billion acquisition of London's Gatwick Airport. Ogunlesi also led the company's acquisition of London City Airport and Edinburgh Airport in 2006 and 2012, respectively.
In a press statement, Goldman Sachs CEO Lloyd Blankfein said that Goldman Sachs' shareholders will benefit from Adebayo's "wealth of knowledge and rigorous thinking". "He has advised companies and institutions around the world and invested in many of the most important sectors in the global economy," Blankfein said.
According to a brief biographical sketch from Ventures Africa, Adebayo (known as Bayo) Ogunlesi is the son of Nigeria's first professor of medicine. He attended the prestigious King's College Lagos, received a B.A with first class honors in Philosophy, Politics and Economics from Oxford University, a law degree and MBA from Harvard University. He practiced law for two years at Cravath, Swaine & Moore after clerking for U.S. Supreme Court Justice Thurgood Marshall. He then pursued a career on Wall Street. From 1983 to 2006 he held various positions at Credit Suisse Investment Bank and its predecessor firms. Ogunlesi is also the Chairman of Africa Finance Corporation, a Pan-African infrastructure investment firm.
* Source http://blogs.forbes.com/mfonobongnsehe .Follow author on Twitter @EmperorDIV