Frosty relations with Hollande see Gabon break the French connection
President swaps colonial language for English after being inspired byRwanda's example
With all the timing of a coup de théâtre,Gabonhas turned its back on French, the language of its former colonial rulers, in favour of English.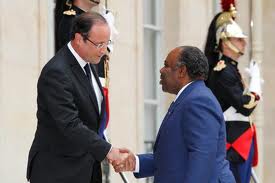 The move by the tiny, oil-rich country will put a damper on the 14th summit of the Francophonie, the gathering of 56 French-speaking countries due to begin in the Democratic Republic of Congo on Friday. "I am shocked by the timing of the announcement," Francophonie secretary-general, Abdou Diouf, told France 24 Television.
The West African country is the latest African country to turn away from its colonial language. In 2009, in a strongly political move,Rwandadropped French in favour of English and joined the Commonwealth.
Gabon's President, Ali Bongo Ondimba, spent last weekend inRwanda"to look closely atRwanda's experience with the introduction of bilingualism," said his spokesman, Alain-Claude Bilie-By-Nze. "The president ofGabonplans to introduce English into our country," he added. "If the Rwandan experience is conclusive why should we not draw inspiration from such an experience…?"
Gabon, which has a population of 1.5 million, has only had three presidents since independence in 1960, and was a key player in "la Françafrique", the name given to the network of French corporate influence over African nations.
Ali Bongo's father, President Omar Bongo Ondimba, held power for 41 years and allegedly spent huge sums of money supporting the election campaigns of successive French presidents. But he died in office in 2009, around the same time as investigations by the French judiciary turned up suspicions of ill-gotten gains spent on sports cars and Parisian real estate. Among the Bongo Ondimba family's acquisitions inParisis the Hotel Soyecourt in the 7th arrondissement, bought by the family in 2010 for €98m (£79m).
The then president, Nicholas Sarkozy, tried to smoothe over judicial hiccups by giving Ali Bongo Ondimba, 53, the Légion d'Honneur in 2010. But the damage was done and Ali Bongo set out to "diversify" the economy, bringing in new business partners from theUnited States,AustraliaandChina. He has also launched an ambitious rebranding exercise, masterminded not by a French PR agency but by the British lobby firm Bell Pottinger. When Gabon co-hosted the African Cup of Nations with Equatorial Guinea earlier this year, riot control vehicles were bought from a fellow Bell Pottinger client, the South African military hardware firm Paramount.
Meanwhile, the current President, François Hollande, has come under greater pressure than his predecessors to question the human rights records and democracy credentials of countriesFrancedoes business with. According to Paul-Simon Handy, deputy executive director of the Institute for Security Studies inPretoria,Gabon's decision to move towards using English as a working language marks a clear break with the past.
"Gabonwould not have abandoned French under Sarkozy," he said. "In many ways it is a pragmatic move that reflects the decline in influence of French. But what will be more interesting will be which African countries now feel free to followGabon's lead. There could be quite a few."
*Source http://www.independent.co.uk/news/world/africa