François Hollande acknowledges 1961 massacre of Algerians in Paris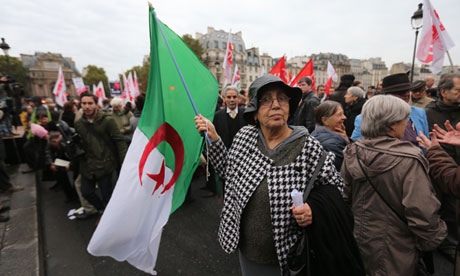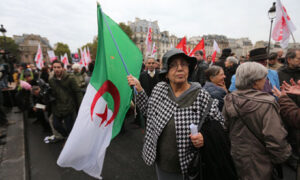 Statement by Hollande is first time a French president has publicly accepted that the killings took place
The French president, François Hollande, has acknowledged that Algerians were massacred during an independence rally in Paris in 1961, ending decades of official silence over one of the darkest chapters of postwar French history.
The massacre has been widely recorded by historians, who say more than 200 people may have been killed.
The statement, which came as Hollande tries to improve relations with Algiers before a visit there in December, was the first time a French president had publicly accepted the killings took place.
As Algeria's battle for independence spilled into France, the Paris police chief, Maurice Papon, ordered police to crack down on thousands of Algerian protesters who had defied a curfew.
"On 17 October 1961, Algerians who were protesting for independence were killed in a bloody repression. The Republic recognises these facts with lucidity," Hollande said in a statement on Wednesday. "I pay homage to victims 51 years later."
Any suggestion that the French authorities were to blame remains a highly sensitive issue, particularly among Hollande's rightwing opponents.
The head of the conservative UMP party in parliament, Christian Jacob, accused the Socialist leader of stirring up divisions by appearing to implicate the state in the massacre.
"While denying the events of 17 October 1961 and forgetting the victims is out of the question, it is unacceptable to blame the state police and with them the whole Republic," Jacob said in a statement.
Many historians say the massacre was the deadliest use of force by French authorities on home soil since police helped to round up thousands of Jews and other minorities during the 1940-45 Nazi occupation.
In the months and years after the massacre, the government banned publication of a book about the killings and suppressed the few photographs taken by journalists that night.
Historians have compiled witness reports of protesters being chased through the streets of Paris and bludgeoned to death in the courtyards of police stations. Bodies were thrown into the Seine river, witnesses said.
Research was hampered by the fact that police documents from the time were never opened to the public. As a result, there is still no consensus on the number of deaths.
Algeria celebrated 50 years of independence from France in July. Paris was its colonial master for 132 years and only let it go after the trauma of the 1954-1962 Algerian war.
* Source http://www.guardian.co.uk/world/2012