"Sierra Leone is recovering from lingering effects of the war and needs help"
-Carol Sallymatu Bangura
By Ajong Mbapndah L
Despite the lingering effects of war, there are strong signs the country is on the path to recovery and needs help. This is the assessment of Carol Sallymatu Bangura who not only made the appeal but matched words with actions by making a donation of learning material to several schools and Institutions in the country. Working through the African Center for Education and Sustainability, Inc, (ACES) Ms Bangura says the books she donates are screened for context and condition to ensure proper standards. The initiative is warmly embraced by the people she meets across the country says Bangura who  has  been donating books to Sierra Leone since 2008.. Although she refrained for discussing anything political, Ms Bangura says her focus is solely on education and was willing to answer questions about her recent trip to Sierra Leone and the work of ACES.
PAV: You were recently in Sierra Leone with a donation of books to various institutions, may what inspired this action on your part?
Sallymatu Bangura:I was born in Sierra Leone and wanted to give back to the children there in addition to aiding in the country's development.
PAV: What criteria did you use in selecting the Institutions that benefitted from your donation?
Sallymatu Bangura: There isn't a criteria per se as all the schools are in need of learning materials for the children. While I have given books to schools and children outside of Freetown, my focus has been in the Western area of Sierra Leone and I am now expanding to the other 13 constituencies in the country.
PAV: There have often been complains about the obsolete nature of some the books donated to the continent, how relevant or contemporary are the books that you took to Sierra Leone?
Sallymatu Bangura: All the books that I donate are age appropriate and are new or gently used. The books are screened for context and condition. I do not give a child a book that I wouldn't give to my child.
PAV: Could you also tell us more about the African Center for Education that you lead?
Sallymatu Bangura: The African Center for Education and Sustainability provides education and social programs for African and Caribbean immigrant children. It has expanded to include children from Iraq, Vietnam, and Puerto Rico just to name a few. I still recall how difficult it was for me to acclimate into the American school system.  The curriculum was different and I was teased profoundly because of my accent and dark skin. I founded the Center to assist children in bridging the education gap, improve academic achievement, and social development in children coming from countries with low literacy levels.
PAV: We understand that the Center will be initiating a new project at Goderich in Freetown called "Learning through Play" may we know more about the initiative and when it goes operational?
Sallymatu Bangura: The project was launched July, 2012 through a series of summer school workshops. Its aim is to incorporate play into learning by providing children with academic games. We will continue to offer Learning through Play during the summer months to minimize the brain drain that often occurs during summer breaks.
PAV: What is it you found out about Sierra Leone that the rest of the world should know considering that the country was for long engulfed in a civil war?
Sallymatu Bangura: Sierra Leone is recovering from lingering effect of the war.  It is developing on a continuous basis and anyone that can help, should.
PAV: Did you have the opportunity to interact with political authorities and what was their reaction to the donation from your organization?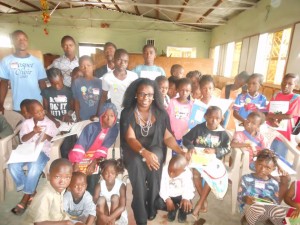 Sallymatu Bangura: Everyone that I encountered embraced my work in a positive manner. I have been donating books to Sierra Leone since 2008 so I didn't just "arrive" on the scene. The social media movement has allowed me to share my work with others on a wider scale.
PAV: Sierra Leone has elections billed for November, how was the political atmosphere and from what you observed were there pointers towards a hitch free elections?
Sallymatu Bangura: I refrain from commenting on anything political. My focus is strictly on providing learning materials for the children of Sierra Leone.
PAV: So what other activities does your Organization has in mind for the rest of the year?
Sallymatu Bangura: I am expanding my program areas and am focusing on more advocacy in terms of programs for African and Caribbean children equal to their Hispanic and Asian counterparts. It's an exciting time for ACES and I am grateful for the opportunity to answer my calling.