Mabior Garang, son of South Sudan's founder, blasts country's leadership
By Alan Boswell *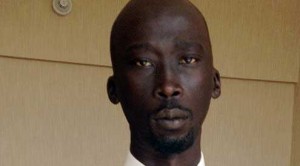 NAIROBI, Kenya — In a move that's likely to shake the foundations of the world's youngest nation, the eldest son of South Sudan's founding hero has broken his family's political silence and declared his opposition to the country's leadership.
It's another indication of the depth of concern over the direction of a country whose existence in one of the world's most volatile regions depends on U.S. backing.
Mabior Garang has accused those who took power after the death of his father, guerrilla leader John Garang, in a 2005 helicopter crash of pulling a "posthumous coup," and he urged others to speak out in opposition.
"My father is a fuel by which these people have been running, but they have actually gone against (him). They've done the opposite of what he was saying and what he was trying to do," said the younger Garang, whose face is a tauter, youthful version of his late father's. "I'm opposed to what's happening. I don't want to be guilty by association."
In a lengthy interview with McClatchy in the Kenyan capital, Garang said the government had been trying to intimidate him into silence after he posted critical remarks on his Facebook page. He wore a sling on his right arm, the result of a recent assault in Juba, South Sudan, for which he blamed the president's security service.
"I'm not worried, but I am in danger," said Garang, who claims that he survived an attempt on his life in 2008. "I've already been attacked. My jaw is broken in three different places."
The younger Garang's decision to take his views public rolls back the curtain on one of the long-standing rifts within South Sudan's ruling party. After independence, many of those close to John Garang were sidelined as President Salva Kiir shored up his own political base. That fault line remains, especially in the military.
Diplomats knew that South Sudan's emotional march to independence superficially chalked over the young nation's deep internal divisions. After independence, that solidarity was expected to splinter: in the best case into a multiparty democracy; in the worst case, civil war.
Nevertheless, the government has promoted the late rebel founder as a near-mythological, heroic figure. Garang founded the Sudan People's Liberation Movement in 1983 and led it until his death.
South Sudanese officials declared the anniversary of his death a national holiday – Martyr's Day – and held their independence celebrations last year at the John Garang memorial, where they unveiled a new statue of the U.S.-educated political activist.
The young Garang was openly disdainful of the public displays honoring his father, gestures he views as disingenuous and hypocritical.
"They are fake statues," he said. "The ones they made at independence were made out of cement, but (made) to look like copper. It was not even cast."
In the interview, Garang offered a long list of grievances against the nation's leaders, labeling them an authoritarian elite and part of a political culture that's too comfortable with soliciting violence for power.
His family is especially upset by the public murder of a Kenyan teacher who was employed at the school his family runs. The teacher was killed in May by a member of the president's personal militia because she didn't stop driving as the South Sudanese flag was being raised. His family has hired lawyers to prosecute the case.
The two issues Mabior Garang kept returning to were corruption – "South Sudan is hemorrhaging money," he said – and his belief that the country is being led by a weak ruler who fears the consequences of sidelining a brutal inner elite bent on power and wealth at all costs.
At one point in the interview, Garang said he thought that Kiir, whom he's known since he was a child, when he called him "Uncle Salva," was struggling between the angel and the demon on his shoulders.
"Like they show in the cartoons," he said. Then Garang paused, and his voice dropped: "I think he fears for his life. I think he has lost the way."
U.S. officials have seen Kiir as a unifying if flawed figure who lacks the natural leadership of John Garang. But Kiir appeared able to navigate South Sudan through its final path to independence, keeping internal divisions at bay.
Although the relationship between Kiir and President Barack Obama has faltered over South Sudan's military activity along the border, Kiir is still seen as responsive to Western concerns. His order to the military in April to stop its offensive north into Sudan is one such example.
But the South Sudanese leader's power has been increasingly questioned lately, with reports of discontent within the powerful army.
Garang said he opposed a military coup, and that he hoped instead for the government to reform until the next elections, expected in 2015. But he left open the possibility of a civil uprising against the leadership.
"I think change can come through pressure on the government," he said. "If the army takes power, it should be a people's coup, more so than a coup d'etat coming from the general headquarters."
During the interview, Garang displayed a keen awareness of history and his role within it. He was careful to explain that his opinions about the country's leadership weren't new, but that speaking out earlier would have put him on the "wrong side of history" and opened up his family to charges of jealousy.
But since his father's death seven years ago, "You start to get a crisis of conscience."
The young Garang also expressed hope that his decision to break the political norms of South Sudan – which, as within many liberation movements, strongly discourages public dissension – will encourage his fellow countrymen to begin demanding a more accountable government.
As for himself, Garang said he was open to seeking political office someday. For now, he sees himself as just an activist.
He seemed unsure of the path ahead. During the interview, he made it clear that he saw the problems in South Sudan's leadership as endemic, and at times he sounded despondent about the fate of the nation that was his father's biggest legacy.
"Salva Kiir as a person is not the problem," he said. "So changing Salva Kiir the person will not do anything. You might even bring a guy who is worse."
*Source :McClatchy.Boswell is a McClatchy special correspondent. His reporting is underwritten in part by a grant from Humanity United, a California-based foundation that focuses on human rights. Email: aboswell@mcclatchydc.com; Twitter: @alanboswell