From Juba to Nairobi – how companies are making money on the new frontier
By Peter Guest*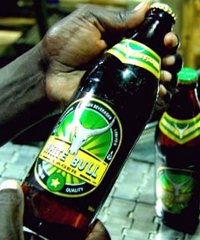 Driving through the outskirts of Juba, the capital of South Sudan, Africa's 54th state, the city – then little more than a town – gives way to flat scrub, decorated with the rusting skeletons of trucks and then, quite suddenly, to a huge industrial facility – Southern Sudan Beverages Ltd. It is a strange symbol for a country battered by decades of civil war, but an important one. The only manufacturing plant of scale in a nation the size of France, the brewery exists as a sign that, despite all of South Sudan's turbulent history and difficult present, the country is open for business.
The plant itself was a chimera, buckled together from two different facilities in Europe that were dismantled and shipped to Mombasa in Kenya, then moved overland to Juba, up the trunk road that turns into a sucking mire in the rainy season. Not all of it made the journey intact. One of the 750 gallon brewing vessels slipped its bindings during a storm and was lost somewhere off the East African coast.
The facility was, and still is, run by Ian Alsworth-Elvey – a garrulous, white-bearded South African who goes lurid pink and sweats profusely in the fierce heat inside and outside – and his team of uniformly tall, broad and bearded colleagues, all veterans of SABMiller's operations around the continent. Behind the brewery, surrounded by a fence made of wound thorns, is a near-perfect replica of a suburban Cape Town house, with sleek leather furniture and humming fridges, which Alsworth-Elvey shares with his wife.
In the four-by-four, driving around Juba – still a low-rise agglomeration of semi-permanent structures bathed in diesel fumes and grey smoke from charcoal burners – the brewers and their wives joke about the gaping potholes, the police roadblocks and the meat shortages that are a daily challenge, using the kind of tone a yuppie housewife in London might complain about the local deli running out of olives.
This was late 2010, in the last few weeks before the South Sudanese went to the polls to vote overwhelmingly for independence. The world was holding its breath, expecting the region to descend back into violence. George Clooney had just breezed through town calling for peace, to the derision of many local businesspeople, for whom the impending threat of war had receded significantly. The sense then was that civil violence was far more a present threat for policymakers in London and Washington DC than it was for the merchants importing meat, cement, petrol and the other necessities of a city being rebuilt from the ground up; or for the engineers building and servicing the country's cellphone networks; or for the brewers, whose White Bull lager, newly launched ahead of independence, was branded to ride the wave of national identity and pride.
The war did not come, and despite continued low-level violence after independence in the summer, and the cessation of oil exports threatening the country's fragile economy, Juba remains at the far frontier of Africa's consumer potential. Even after independence, which may have created the poorest country on earth, it was an opportunity for businesses, small and large. At that time, there were rumours that rival brewer Diageo was scoping out the market, and there was a thriving grey market trade in Heineken, brought in by the crate by Eritrean merchants, supplying the small lean-to bars in town, which are decorated with a colourful array of international merchandise – Coca Cola, Tusker, and of course, White Bull.
South Sudan's future is by no means one of unmitigated success. The country has suffered from chronic underdevelopment during its decades of civil war. It has entire generations whose education has been in the bush or in refugee camps in Kenya or Ethiopia. Its government, despite the efforts of the international community, is sorely lacking in capacity and its education system needs massive investment. Its oil industry – the main source of its revenue – is still the victim of disputes with its previous rulers in Khartoum, and there is still violence along its unsecured northern border. Juba is not for the faint of heart. It is Africa in extremis, the furthest frontier of the continent's frontier markets, which makes the snarled traffic of distant Nairobi feel like Stockholm, but it offers some valuable lessons: that a history of insecurity is not always an indicator of a grim future; that international concern and the presence of Hollywood stars is not always correlated with business sentiment; and that poverty, no matter how deep or deep-rooted, is not an absolute barrier to entrepreneurialism and commerce. As in all emergent markets, first movers stand to win – and win big.
In 2012, the north and south looked to be teetering on the brink of another war, as disputes over their once shared oil reserves turned violent. But, regardless of the pessimists insisting that history was doomed to repeat itself, peace talks in May bore fruit, the armies stood back, and negotiations resumed. The same month, SABMiller completed a doubling of its capacity in the White Bull brewery, replacing the second-hand equipment with brand new machinery.
Africa is buying fast moving consumer goods at an incredible rate. These are not the hand-to-mouth markets that are portrayed in sepia-toned adverts at Christmas time. They are thriving, consumptive and growing in size and wealth.
The raw numbers are compelling. In 2011, sub-Saharan Africa's total population was estimated to be around 900 million people. Including the Maghreb puts the continent at more than 1 billion human beings, who, despite the prevailing belief in the West, are not trapped in a developmental stasis. That population is growing at a greater rate than any other region, and is forecast to reach 2 billion by 2050 – which has its concomitant risks and challenges – but also creates massive opportunities as those populations are moved from rural subsistence to urban consumption, a shift which is happening at a startling pace. In 2010, the United Nations' Human Settlement Programme – UN Habitat – forecasted that by 2030, more than half of all Africans will live in cities, from around 40% in 2009. By the early 2040s, there will be more than 1 billion people living in the continent's cities.
Today, these cities show the dichotomy of Africa's growth. In Nigeria's commercial capital of Lagos, a sprawling conurbation draped across an estuary in the country's south, artisanal charcoal burners sit cheek-by-jowl with the brand new Porsche dealership on Victoria Island, which boasts some of the world's most expensive real estate. In Abidjan, Côte d'Ivoire, men and women compete with the white cranes to pick through the city's detritus in the shadow of neon signs advertising Samsung televisions.
On the other side of the continent, in the heart of Kenya's capital, Nairobi, a stone's throw from where sleek concrete and glass towers are rising to house the region's new technology champions, the Kibera slum stretches on for miles, a corrugated iron and wood city-within-a-city with its own shops and bars, its own public transport and Pamoja FM, its own radio station, serving a population of several hundred thousand. On the edge of the sprawl new housing projects are stretching up out of the ground. The slow march of formalisation has seen sanitation and permanent structures eat into the slum, and while it remains an ugly scar for the television cameras and the swarms of gap year missionaries that flock to Nairobi every year, even Kibera is rising. It is that rise, from the base of the pyramid up towards its peak, that is Africa's great potential.
It is something remarked on, but often dismissed, that almost anywhere in these cities, a visitor can buy a Coca Cola and watch English Premier League or Spanish Primera Liga football. The stores stock instant coffee and milk powder made by Nestlé, Unilever tea and hygiene products. Tusker, Kenya's iconic beer, whose logo is worn as a souvenir on the chests of those same gap year students, is bottled in Nairobi by East African Breweries Limited, a subsidiary of the drinks giant Diageo. Lined up in glass cases in garishly painted stalls dotted around the city, merchants are doing a roaring trade in Nokia and HTC mobile phones. Africa's urban population already buys branded necessities and small luxuries in huge and growing quantities. However, the turnover of goods, the increasing formalisation of these micro-economies, the construction of infrastructure and the inflow of international capital is also creating something new and powerful.
In the central business district, snarled as ever with traffic, urban professionals sip lattes at Java House, the country's equivalent of Starbucks. They are not the wealthy elite, nor are they the struggling poor. They are aspirational, consumptive, creative and entrepreneurial. They are the new face of Africa's cities, and the engine of the continent's emergence. They are Africa's middle class.
*Source http://www.howwemadeitinafrica.com. This article is an edited extract from Peter Guest's book, Africa's Century: Making Money On The New Frontier (Endeavour Press, August 2012). Available at Amazon.