Five trends driving Nigeria's investment allure
By  Kate Douglas*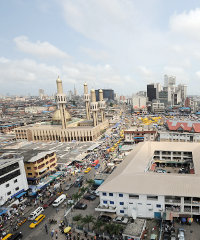 Nigeria is one of the world's fastest growing economies. From 2009 to 2011 the West African nation had an average growth rate of 7.5%, compared to world growth of 2.8%. Part of this has to do with the investment inflows into the country seen in the past few years. In a recent report by Standard Bank, EM10 and Africa: Nigeria – potent opportunities, daunting challenges, research analysts Simon Freemantle and Jeremy Stevens outlined five trends powering Nigeria's appeal to investors.
1. Demographics
Nigeria is Africa's most populous nation with 160 million people. This number is expected to expand to 400 million by 2050.
"This swift growth means that Nigeria's population is exceptionally youthful: Nigeria's median age is 18, compared to a world average of 29 (and a US average of 37)," states the report. "Over 40% of Nigeria's population is younger than 14, and almost 65% younger than 24."
This "population bulge" creates opportunities, one being the emergence of a robust consumer base. Rising incomes in Nigeria suggest a maturation of its middle class.
"Domestic demand is rising on the back of steady increases in private and public investment," notes the report. "Total consumer spending in Nigeria in 2010 was estimated to be US$115bn (in 2010 constant prices), and is expected to increase to $167bn by 2020. According to Euromonitor, annual disposable income in Nigeria in 2011 totalled $119bn."
The research also points out that another potential gain from Nigeria's fast-rising youthful population "lies in the realisation of a 'demographic dividend' – implied by a bulge in the country's workforce in relation to dependents younger than 14 and older than 65".
Around 54% of the population are in the working-age bracket of 16 to 64 years. "As such, Nigeria's workforce dwarfs African peers South Africa (32 million), Kenya (22 million), and Egypt (51 million). By 2050, 60% of Nigeria's population will be of working age, totalling upwards of 240 million people," says the report. "Leveraged effectively, this working age bulge could inspire investment and provide profound support to Nigeria's industrialisation."
2. Urbanisation
Like the rest of Africa, Nigeria is urbanising at a rapid pace. According to Standard Bank's research, Nigeria's urbanisation rate stands at about 48%, which suggests that almost 80 million Nigerians live in the country's cities and this is estimated to increase to 160 million by 2030.
"By conservative estimates, the population of Lagos stands at around 12 million people – up from 300,000 in 1950 (and making it one of Africa's three largest cities – including Cairo and Kinshasa)," notes the report. "By 2020, Lagos will (again, conservatively) have a population of around 20 million people. In all, Nigeria has 14 cities with populations of more than 750,000 people, the most of any African country."
Nigeria's urbanisation, while not without its problems as cities become increasingly crowded; has the potential to be a robust catalyst of change in the country.
3. Technology
Growth in discretionary spending in Nigeria is related to the ongoing telecommunications boom in the country. In 2011 it was estimated that there were 95 million mobile phone subscriptions in the country which averages out to about 59 subscriptions for every 100 people. Alongside this, Nigeria's internet users have grown from about 80,000 in 2000 to almost 45 million last year. "Staggeringly, roughly one in three internet users in Africa are Nigerian," adds the report.
According to Business Monitor International, mobile subscriptions are estimated to reach 130 million by 2016, with a penetration rate of over 70%. "This will in turn deepen access to the internet (much of which is through the mobile phone given prohibitively high broadband rates, and limited coverage)," the report states. "That said, new fibre-optic cables landing on Africa's west coast will elevate the speed, affordability and reliability of broadband internet in the country."
Standard Bank's research also reveals that Nigerians have embraced social media with an estimated 5 million Facebook users, the 32nd largest Facebook market in the world.
"In a recent analysis of 'tweets' originating from Africa in the final three months of 2011, 1.65 million (15% of the total) originated in Nigeria – making it the third-most active country for Twitter in Africa behind South Africa and Kenya."
4. Resources
Nigeria is one of the most resource-rich countries in Africa. According to the Organisation of the Petroleum Exporting Countries, Nigeria holds almost one-fifth of Africa's total proved oil reserves and 35% of proved gas reserves.
The UN Food and Agricultural Organisation (FAO) estimates that around 80% of Nigeria's total land mass, is classified as being agricultural. While in Africa this is only exceeded by Sudan and South Africa, "Nigeria has four-times South Africa's and ten-times Kenya's total internal renewable water reserves," says the report.
While agricultural production is also improving, the report states that "yields per hectare remain significantly below international standards – indicating potential for elevated agricultural production and food security in Nigeria".
5. Financial deepening
Behind South Africa, Nigeria has the second-largest banking system in Africa. "According to the IMF, total banking system claims stood at $86bn in 2010," states the report. "While banking growth has indeed been compelling, the room for expansion is even more enticing."
According to a 2010 FinMark Trust/EFinA survey, 46.3% of the adult population are completely financially excluded, and only 30% of the adult population are banked.
"It is inevitable, and evident, that as incomes elevate in Nigeria demand for more sophisticated financial products will result," says the report. "Across Africa, economies with a higher GDP per capita, without exception, enjoy deeper levels of banking penetration. Similarly, as economies urbanise, access to financial services naturally elevates."
Mobile banking platforms are also opening doors. "Nigeria has 95 million mobile phone subscribers, and fewer than 30 million bank accounts. Estimates vary, yet it is plausible that up to 20 million Nigerians could be drawn into the formal banking system via mobile platforms over the next three to five years."
*Source http://www.howwemadeitinafrica.com