Museveni's speedy promotion of son and a new African trend
By Godfrey Madanga and Prince Ofori-Atta*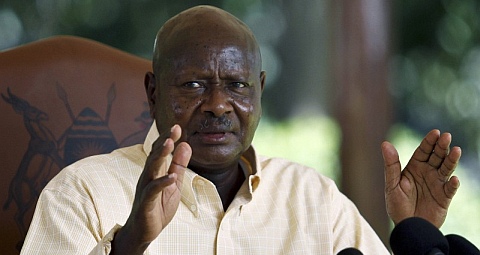 Ugandan President Yoweri Musevei's son has suddenly been promoted in the army raising speculation that he is being groomed to take over from his father, as the question of succession continues to haunt a number of African states.
Museveni promoted his son, Muhoozi Kainerugaba from the rank of Colonel to Brigadier, triggering speculation that this was in response to Ethiopian Prime Minister Meles Zenawi. The Ethiopian leader will be succeeded by his deputy, but Ugandan political analysts think Museveni would prefer a situation where his son will take over.
It still remains a mystery who President Yoweri Museveni wants to succeed him, as the succession issue is considered a taboo topic.
Analysts have expressed fears that Kainerugaba's promotion was the beginning of a chain of events that could lead to an undemocratic succession. They argue that the speed at which Museveni is promoting his son in the army is tantamount to grooming him to take over the helm of affairs in the country.
"There is speculation in the country that he (Museveni) is grooming Muhoozi to take over the leadership of the country after his retirement. But we are going to resist such a move," roared Michael Ochan, an opposition politician.
The opposition's shadow minister for information, Ssemujju Nganda questioned why the president, after saying that his son was only a "village guard" in 1997 when Kainerugaba first entered the military, had promoted him to "the rank of brigadier in only 10 years."
Medard Ssegona, the opposition's shadow minister for justice, questioned how a person who had never involved in any war could be promoted so rapidly.
As the subject of Kainerugaba's unlikely promotion rocks the East African country, questions over efforts made by some African leaders to impose their sons as heir apparent have also been raised.
Before the Egyptian Spring that saw another long time African leader, Hosni Mubarak's ouster speculation that his son, Gamal Mubarak was being groomed as a successor, was a cause of political agitation in the North African country.
Former Senegalese President Abdoulaye Wade's regime crashed heavily to defeat at the polls when dissatisfied Senegalese protested against his decision to run for another term, with speculation that he intended to hand over to his son once elected, especially after he instrumented the creation of a vice-presidential office. The fast rise of his son in the Senegalese political sphere culminated when Karim Wade became a "super minister", holding a number of strategic offices.
In recent months, another issue that has hit the media spotlight is the promotion of Equatorial-Guinea's president's son, Teodoro Obiang Nguema Mangue as vice president of the oil-rich central African nation. French authorities recently issued an arrest warrant for the 43 year old son of Teodoro Obiang Nguema Mbasogo, over accusations made by Transparency International about the misappropriation of funds to acquire assets in the European country.
With the exception of royal monarchies, serving African presidents who succeeded their fathers include, Joseph Kabila of The Democratic Republic of Congo, Faure Gnassinbé of Togo and Ali Bongo of Gabon.
Libya's Gaddafi's unsuccessful attempt to groom his sons to take over ended in shambles, with him being killed and his sons running for dear life.
But as parallels continue to be drawn by many, Uganda's acting army spokesperson, Colonel Chris Magezi has defended the army's decision to promote Muhoozi, arguing that he was rightfully promoted by his father, Uganda's president and commander in chief of the country's armed forces.
"The young man has been undergoing several military training programmes. His promotion has been based on the numerous trainings he has undertaken."
Muhoozi, who is in his early 30's trained in some of the big names in army colleges in the United Kingdom and the United States of America. He is currently in charge of the special force that guards his father, the president.
*Source www.theafricareport.com