President Obama Pays Tribute to President Mills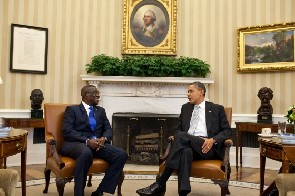 WASHINGTON — US President Barack Obama paid tribute to Ghana President John Atta Mills on Tuesday after his sudden death, hailing him as a "strong advocate" for human rights and a tireless champion of his people.
The 68-year-old Mills died Tuesday hours after being taken ill. He had recently traveled to the United States for a medical check-up. The cause of death remained unclear.
"It was with great regret that I learned of the passing of President John Evans Atta Mills of Ghana," Obama said, in a White House statement.
"I will always remember my trip to Ghana in 2009, and the hospitality that President Mills and the people of Ghana showed to me, Michelle, Malia, Sasha and our entire delegation," he said, also recalling Mills' US visit this year.
"President Mills tirelessly worked to improve the lives of the Ghanaian people. He helped promote economic growth in Ghana in the midst of challenging global circumstances and strengthened Ghana's strong tradition of democracy."
Obama also praised Mills as a "strong advocate for human rights and for the fair treatment of all Ghanaians," as he offered his condolences to the people of Ghana on behalf of all Americans.
Presidential elections are set for December in Ghana, a country seen as a rare example of stable democracy in West Africa and which recently joined the ranks of the world's large-scale oil producers.
Mills was set to seek re-election.
The US ambassador to the United Nations, Susan Rice, said on Twitter: "Saddened by the death of President John Atta Mills. Our thoughts are with his loved ones and the great people of Ghana."
Source: www.ghanaweb.com